PEX6 explosion proof industrial phone
Analogue Explosion Proof Phone with amplifier and loudspeaker
PEX6 is an  explosion-proof analog phone specially designed for hazardous area communication. The explosion-proof telephone uses heavy metal as the raw material of the outer casing, and its housing is firm and vandal-proof. It can be used in emergency environments such as petrochemical mining and the like as emergency communication equipment.
PEX6 is an intrinsically safe phone, designed for use in nuclear power plants, chemical, petroleum, natural gas and other hazardous areas to provide intrinsically safe communications equipment. The phone is suitable for use in fires where the environment is filled with flammable gases, steam, dust, flammable vaporized liquids, or in an environment filled with flammable fibers in the air.
In the dangerous environments, PEX6's normal work will not be the source of the explosion. The intrinsically safe phone PEX6 cast in a metal case, has a waterproof rating of up to IP66 and is dust and drop resistant.
PEX6 is certified by international IECEx and ATEX. The safety availability can be fully guaranteed. 
Product description
Description
1. Explosion-proof analog phone with robust aluminium alloy die-cast body, Vandal & tamper-resistant hardware.
2. Waterproof rating IP66 dust proof.
3. Full keypad with memory, dialling 10 groups of numbers stored in the memory.
4. Equipped with amplifier and louder speaker, and magnetic reed hook-switch.
5. Heavy Duty handset with hearing Aid compatible receiver, Noise canceling microphone.
6. Handset with industrial strong curly cord .
7. Stainless Steel keypad keep waterproof and dusty proof.
8. With external safety ring indicator PED20 with 8ꭥ 0.5W.
9. Door cover: orient automatically and good self – closing, convenient for use.
10. Temperature range from -20 degree to +55 degree.
11. Powder coated in UV stabilized polyester finish.
12. Application:
It is suitable for use in Zone 1 and Zone 2, group IIA and IIB, T5 gas explosive atmospheres.
Hazardous dust and gas atmospheres, petrochemical industry,Tunnel, metro, railway, LRT, speedway, marine, ship, offshore, mine, power plant, bridge etc.
Specification
1. Explosion proof analog phone with robust aluminium alloy die-cast construction body
2. Types of protection: II 2G Ex db ib IIB T5 Gb -20℃ to 55℃
3. Degree of protection: IP66 (tested according to EN 60529)
4. Dual Tone Multi Frequency (DTMF) dialling
5. Mean Time Between Failure (MTBF): 100000 hours
6. Equipped with built-in amplifier module support external explosion proof horn 8 Ohm 30W
7. Telephone line power supply DC 24V-48V
8. Sound level of ringing: over 70dB (A) at 50cm distance.
9. Speed dialling keypad: Super strong function is available for dialling 10 groups of numbers stored in the memory
10. Equipped with external safety ring indicator PED20 with 8ꭥ 0.5W and LED 5Vd.c. 0.75W
11. Working with PSTN or PABX analog telephone line, 110Va.c. or 220Va.c. powered
12. Unit size: 290*185*118mm
13. Weight: 10.65kg
14. Environment conditions:
Ambient temperature: -20℃ to 55℃.
Relative humidity: 10%~95%
Atmospheric pressure: 86~106Kpa
Circumstance noise: less than 60dB (A)
Dimension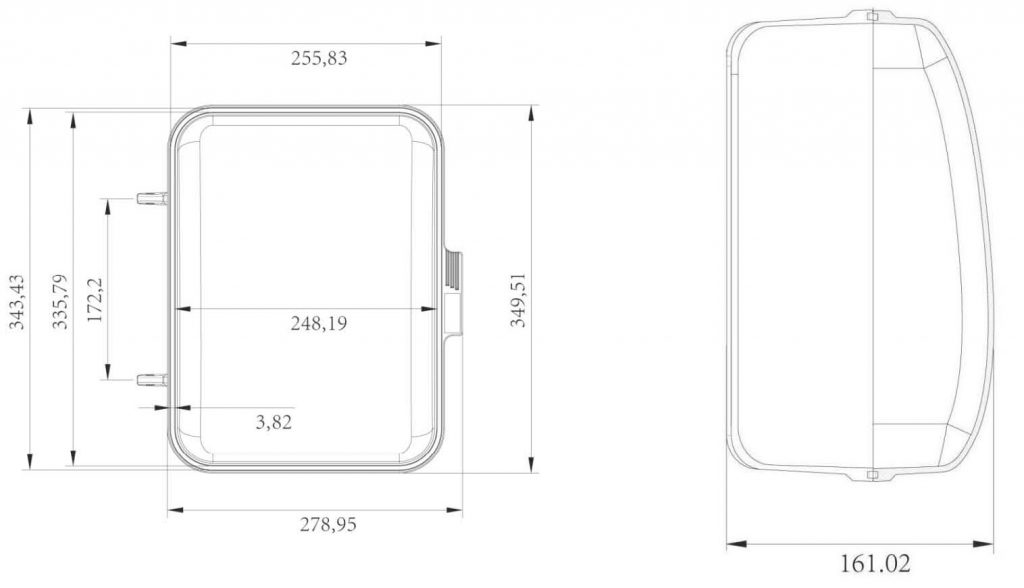 Additional information
| | |
| --- | --- |
| Weight | 3 kg |
| Dimensions | 20 × 30 × 40 cm |