PESP09T2S Fixed Industrial IP Phone
VoIP Fixed Industrial Telephone
1. Fixed Industrial IP Phone
2. A practical wall-mounted telephone that uses wired communication landline phone.
3. Can be wall-mounted installed anywhere in the industrial zone.
4. With solid appearance, speed dialing function and easy to use.
5. Can customize a variety of styles of wall-mounted telephones for industrial use according to the user's functional requirements.
6. With VoIP wall-mounted phone, you can communicate using a network signal, and the call is completely free.
7. A metal casing that is explosion-proof, vandal-proof, waterproof.
Product description
Description
1. Robust aluminium alloy die-cast body, vandal & tamper-resistant hardware, easy installation.
2. Full keypad with memory, 3 button programmable telephone, support hotline dialing, support scroll dialing.
3. Magnetic reed hook-switch.
4. DC input over voltage over current protection and RJ 45 surge protection.
5. Heavy duty handset with hearing aid compatible (HAC) receiver, noise canceling microphone.
6. Handset with industrial strong armored cord.
7. Silicon keypad keep waterproof and dusty proof.
8. Temperature range from -40 degree to +70 degree.
9. Support echo cancellation, wall mount installation.
10. Remote software upgrade, configuration and monitoring.
11. Optional 7 minute time-limited call. 
12. Powder coated in UV stabilized polyester finish.
13. Application: Tunnel, metro, railway, LRT, speedway, marine, ship, offshore, mine, power plant, bridge etc.
Specification
1. VoIP SIP2.0 telephone
2. DTMF dialing
3. MTBF: 100000hours
4. MTTR: 2 hours
5. Hot-line (maximum length of each number is 16 digits)
6. Communication: Full duplex 2-way handset communication
7. Call Control Signaling: VoIP SIP Info (DTMF), RFC 2833(DTMF)
8. Power: Power over Ethernet, IEEE802.3af, Class 0
9. Local power, 12VDc, Idle 2W, Max 10W
10. Auxiliary Contacts: (option)
11. 1 Aux Output, dry contact
12. Contact Ratings. Load: Resistive load
13. Rated load: 0.3 A at 125 VAC; 1 A at 30 VDC
14. Rated carry current: 1A
15. Max. switching voltage: 125 VAC, 30VDC
16. Max. switching current: 1A
17. Audio Codes: G.711, G.723, G.726, G.729
18. Network: 10/100 BaseTX Ethernet, RJ45 connectors, Cat5e or better
19. IP Protocols: IPv4, TCP, UDP, RTP, DHCP, SIP
20. 1*LAN Protocols: Power over Ethernet (PoE, 802.3af),
21. 1*WLAN (IEEE 802.3af), Network Access Control (IEEE 802.1x), STP (IEEE 802.1d), RSTP(IEEE 802.1d-2004)
22. Programming: Non-volatile flash memory programming and configuration through Web GUI
23. Management and Operation: DHCP and static IP, remote automatic software upgrade, centralized monitoring.
24. Echo cancellation code: G.167/G.168
Dimension and Installation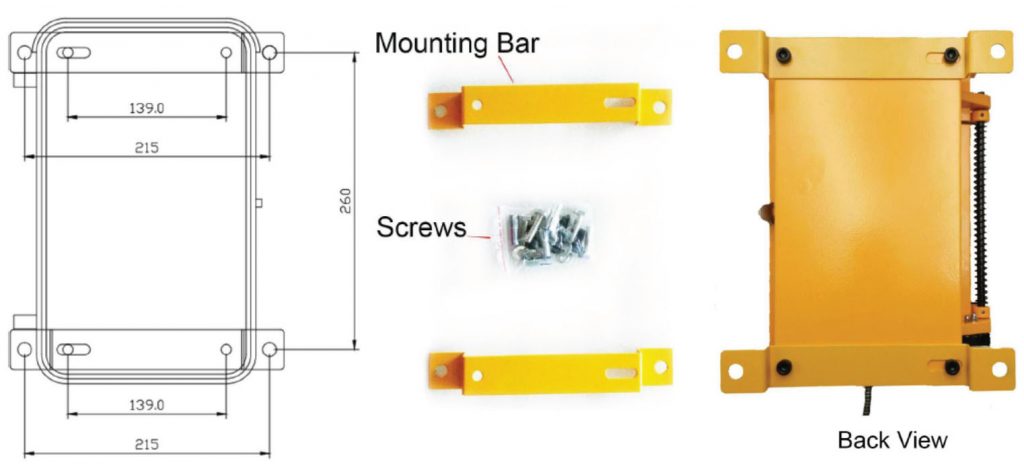 Related Products