PEC9615 SIP horn speaker
IP horn speaker embedded with the IP audio digital network audio technology of independent intellectual property rights, can receive other terminals or server launched broadcast, support the browser to perform functional settings.
It has the function of loop fault detection.
It can detect the working state of the speaker and display it on the server software.
Product description
Feature
1. With an integration of the network audio decoding and digital amplifier and speaker and an installation of wall-mounted design;
2. With a high-speed dual-core (ARM + DSP) chip of industrial grade, start time≤1s;
3. With a built-in Hi-Fi speaker and stereo Class D power amplifier;
4. With a built-in loop detector to remotely monitor the working conditions of the speaker, easy to maintenance;
5. Supportive of POE power supply and SIP protocol, with the function of adjusting speaker output volume remotely on server;
6. With a standard RJ45 interface supportive of crossing network segment and router, accessible to the system if the Ethernet is available;
Specification
| | |
| --- | --- |
| Power Supply | DC24V/1A or POE |
| Standby Consumption | ≤3 Watts |
| Network Chip Rate | 10/100Mbps adaptable |
| Maximum SPL | 97dB±3dB |
| Network Protocol | TCP/IP, UDP, ARP, ICMP, IGMP, SIP |
| Frequency Response | 100Hz-18kHz |
| Power Output (DC adapter) | 1x20W |
| Power Output (POE) | 15W |
| Dimensions & Weight | 283.1×224.3x269mm, 2.0 kg |
Basic functions
1. Receive broadcast: receive the broadcast initiated from other terminal station or server.
2. Modify the parameters (audio parameters, network parameters, or login password, and so on) via WEB to realize personalized settings.
3. Power supply via POE (POE over Ethernet)-only one Ethernet cable required.
4. SIP protocol.
5. Each loudspeaker can be addressed and configured individually.
6. End-to-end monitoring of connection and loudspeaker functionality.
7. High volume capacity and superior speech quality thanks to the integrated 15 watts class-D amplifier and eHD voice.
8. No need for central amplifiers to realize small-sized and remote PA zones.
9. Loudspeaker can be allocated to groups and zones.
Audio functions
1. IVC (Intelligent Volume Control): automatically adjust the volume setting to the ambient noise level.
2. Scheduled program broadcasting: uploading the audio resource needed to be played for every day to the server, and making the plan for broadcasting task. IP Horn Speaker can play the planned task automatically which is settings by server.
Additional functions
Loop detection: with self-inspection function, and the working status can be detected.
Dimension Drawing

Interface Description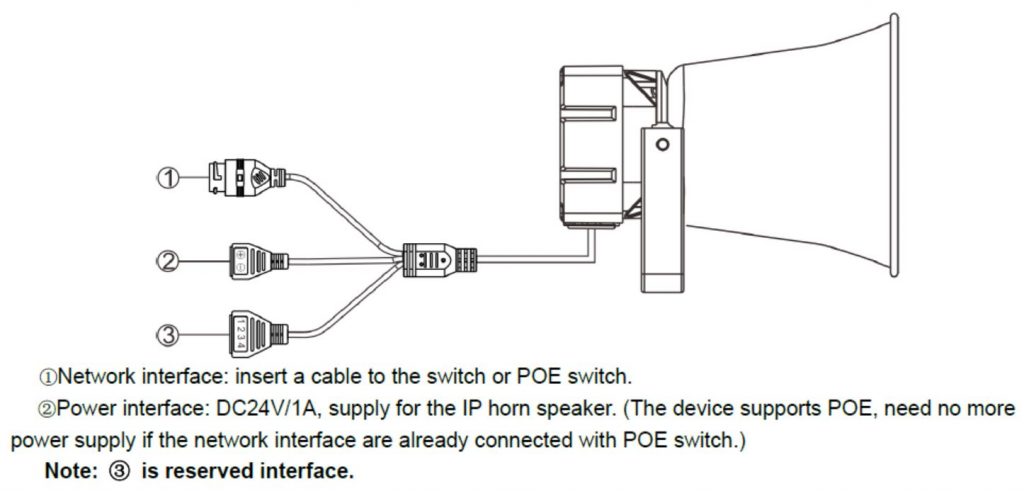 connection diagram